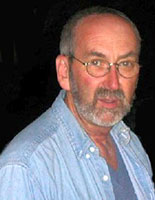 Howard Courtney
The first compilation of its kind, featuring nearly 900 illustrations of U.S. space-themed postmarks, slogans and meters from 1958 to 2016.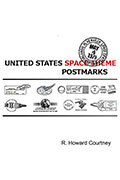 United States Space Theme Postmarks
(200 pgs)
Born in Port Huron, Michigan, Howard Courtney has a BA in Anthropology, an MA in Arabic, and graduate work towards a PhD in Persian Literature at the U of Chicago.
Courtney lived in Jordan in the Middle East on two occasions where he taught at a Quaker boy's school and at Bir Zeit University. He has traveled to 31 countries and studied nine languages. Professionally he taught at the college/university level, worked as a parole agent, and was hired for the Reference Desk at the Peoria, IL public library. For the last seven years he has been a volunteer tutor of English at two adult Hispanic night schools.
Howard has been a long-time jazz fan who volunteers at the Jazz Institute of Chicago. He is mentioned in the acknowledgment section of a book on Duke Ellington, is thanked on the back of three different jazz CDs and he and jazz drummer Famoudou Don Moye co-produced a CD of the music of the Art Ensemble of Chicago. His collection of original jazz performance posters is one of the finest in the U.S. An archive of his jazz memorabilia is in the Special Collection section of the U of Chicago library.
Courtney began collecting stamps at nine years of age. His major collection is of Bangladesh, of which he wrote the definitive catalog, as well as the definitive catalogs on Bangladesh Revenues and the stamps of the Sheikhdom of Dubai. They are on-line for anyone to use free. The Philatelists' Association of Bangladesh awarded him an Honorary Life Membership for his contribution to Bangladesh philately.
He is the author of six catalogs on U.S. space event covers, was an early member of the ATA Space Unit, created and edited a journal on the stamps and postal history of the Arab Middle East entitled "The Arab World Philatelist." He won a medal in an APS literature competition for the Arab World journal.
Currently he has collections of U.S. air event covers from the 1920s to present, Indian Meghdoot postal cards, U.S. flag stamps and errors, Indian obliterated Express Delivery envelopes, and the 1932 Washington Bicentennial covers. A fellow collector of Bicentennial covers and Howard are collaborating on a catalog.
Howard is anything but slowing down. In his late 60s he began running marathons and has completed three Chicago Marathons and two half-marathons.